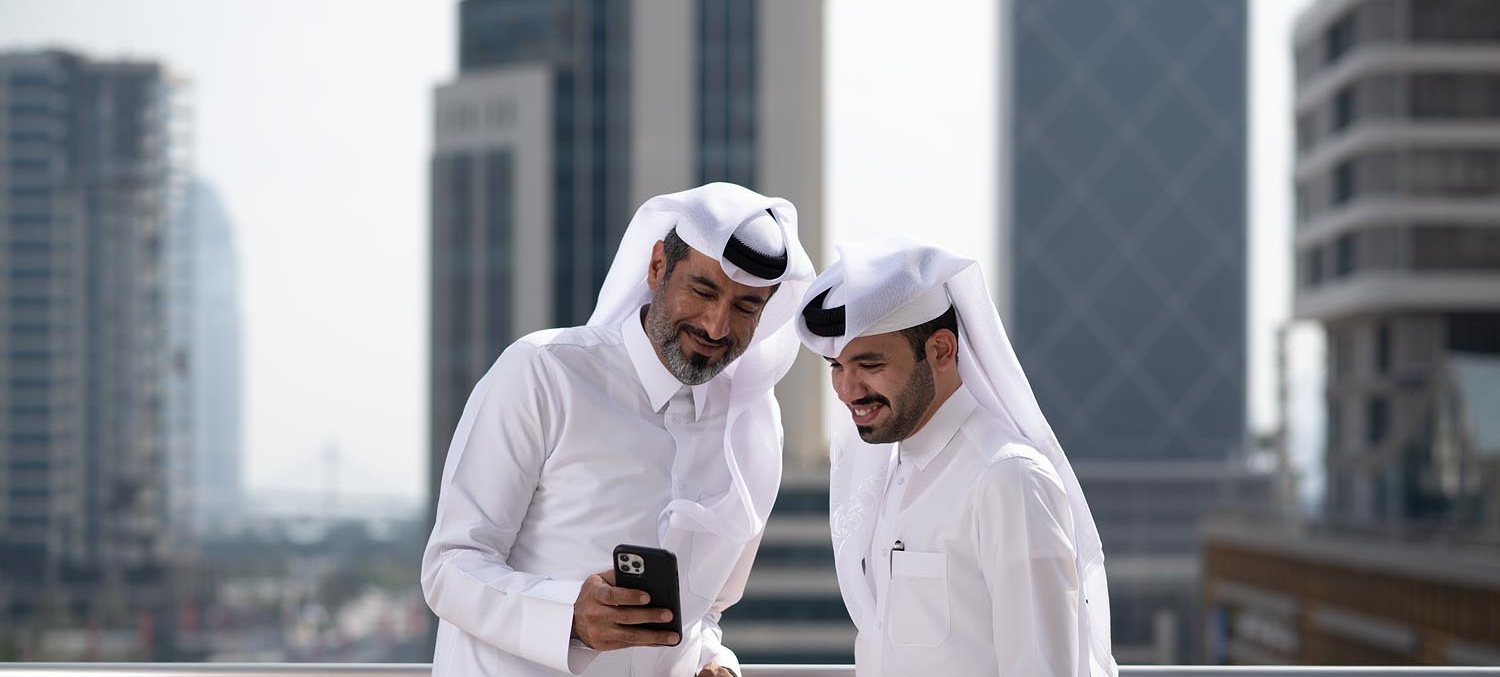 Asset Management Group
Al Rayan GCC Fund
One of largest and most successful Sharia-compliant GCC funds in the region
Al Rayan GCC Fund was launched in May 2010. Its success has stemmed from a belief that markets have significant opportunities, which allow the extraction of significant alpha (returns). The fund seeks to unearth uncommon value across GCC equities and sukuk.
With in-depth and rigorous analysis of companies (the sectors and countries they operate in), the fund applies an 18-24-month investment view aiming to capture material returns where current valuations do not fully reflect future prospects. Where necessary, the fund is more nimble when sufficiently attractive, shorter-term opportunities emerge.
We share our investors' desire to focus on responsible investments, seeking to achieve sustainable growth. Importantly, studies by Al Rayan Investment and others show this does not compromise performance, in fact principle-based investing has materially enhanced returns over the long term.
Al Rayan GCC Fund invests across the six-nation, Gulf Cooperation Council (GCC). GCC members are Bahrain, Kuwait, Oman, Qatar, Saudi Arabia and the United Arab Emirates. The fund only invests in Sharia-compliant securities (as guided by our Shariah Supervisory Board) enabling investors to access compelling and responsible growth within the Gulf.
Masraf Al Rayan Q.P.S.C is the founder of Al Rayan GCC Fund, which is managed by multi-award winning, Doha-based fund manager, Al Rayan Investment LLC.
The fund is one of the largest Sharia-compliant GCC-focused fund in the region. From inception in 2010 till end-June 2021, it has returned 115%, after all fees have been considered.
Gulf equities are the primary focus
Al Rayan GCC Fund focuses on regional, listed equities. The fund seeks to invest in companies with superior corporate governance, stronger management teams, durable market position and improving cash generation prospects. In addition to equities, the fund also invests in Shari'a-compliant fixed income (sukuk) and cash.
Ethical, responsible, sustainable: Our fund, as well as its investments meet our ethical investment principles, the foundation for responsible investing.
Experience
The fund's multinational investment team has rich regional and global experience in equity and fixed income investing. Team members have strong track records of successful portfolio management and research.
Stock picking is key
We believe in-depth fundamental research is a pre-requisite to identifying long-term winners and unearthing value opportunities
In-house research
Al Rayan Investment carries out in-house research on regional companies determined by our thematic screening process.
Low fees, enhanced performance
In order to enhance investor returns, Al Rayan GCC Fund's fees have been set competitively. One-off subscription fee, up to 1% Management fee of 1.25% of Net Asset Value (NAV) per annum. Management fee is charged on a monthly basis. Performance fee of 20% above the hurdle rate of 24%, to be charged, if any, every 2 years from June 2021 till May 2023.
This fee ensures fund manager interests are aligned with investors. If the fund delivers more than 24% return over a 24-month period, the fund manager is eligible to share 20% of the excess return. Example. If the fund returned 28% over 2-years (net of fees), the fund manager would share 20% of 4% or 0.8%, so net return would be 27.2%.
Minimum subscription
QAR 35,000 for individual investors QAR 350,000 for institutional investors
Al Rayan GCC Fund (Q) and Al Rayan GCC Fund (F)
Al Rayan GCC Fund was previously known as Al Rayan GCC Fund (Q). A separate fund, Al Rayan GCC Fund (F) followed the same investment strategy as Al Rayan GCC Fund (Q), but was reserved for non-Qatari investors with a base currency of US Dollars; the base currency of Al Rayan GCC Fund (Q) was Qatari Riyals.
During 2019, Al Rayan GCC Fund (Q) was renamed Al Rayan GCC Fund. In October 2019, to allow benefits of greater scale, and after consultation with all investors, Al Rayan GCC Fund and Al Rayan GCC Fund (F) were merged. Investors in Al Rayan GCC Fund (F) had their units swapped with those of Al Rayan GCC Fund and Al Rayan GCC Fund (F) became inactive.
This entire procedure was conducted with the approval, and under the scrutiny of the fund regulator, the Qatar Central Bank.
Overview: A volatile August where Fitch lowered the US credit rating to AA+ and Chinese economic data remained weak. US equities -2% and Europe -3% while in EM, Russia was flat, Brazil -3%, while both India and China dropped 5%. US interest rates remain volatile, 10-year US Treasury yields rose 15bp over the month to 4.11%, while the US Dollar gained 1-2% against major currencies. In line with the overall negative sentiment, most commodities were lower, except ethylene +12% and Brent crude +3% ($86.8). On the losing side, steel -9%, urea and copper both around -4%, aluminium -3% and gold -1%, to $1,940. Gulf equities were not spared with Qatar -7%, Kuwait -5%, Bahrain -2%, while Dubai, Abu Dhabi and Oman gained around 0.5%. There was no regional fixed income issuance in August. Within sukuk, average spreads were 10bp higher, average yield to maturity +19bp to 5.80%, and sukuk returned -0.06% over the month. Burjeel Holding, Air Arabia and Aldrees Petroleum helped the fund most in August; Mouwasat, Al Hammadi Holding and Saudi Airlines were key laggards
Al Rayan GCC Fund announces QAR 0.076 dividend distribution for first half of 2023 The Fund Manager has decided to distribute dividends based on the fund's net asset value (NAV) at end June 2023. All unit holders as per the records of the custodian on 30 June 2023 will be entitled to receive this dividend. Accordingly, the June 2023 NAV will be the ex-date, reduced by the amount of dividend payable. The dividend will be distributed in cash, or in kind (additional units), based on the selection of each unit holder; where no selection has been made, dividends will be paid in kind. Contact: Al Rayan Investment + 974 4423 5606 ari.info@alrayan.com Website: alrayaninvestment.com Masraf Al Rayan is regulated by Qatar Central Bank Al Rayan Investment is authorized by the Qatar Financial Centre Regulatory Authority and is licensed by the Qatar Financial Markets Authority Terms & conditions apply
The fund's Investment Strategy and Process seeks to capture outstanding medium to long-term opportunities in leading regional companies operating in a sustainable manner. We have identified secular growth trends and investing in line with these is key to delivering significant returns. Key themes: FIFA World Cup Qatar 2022TM. More than half a million visitors are expected during the month long tournament starting in November, 2022 (Qatar's population is 2.5 million). We expect a positive impact across many parts of the Qatari economy not only during the event but also in the 9-12-month build-up prior to kick-off. Saudi home building. A key pillar of Crown Prince Mohammed bin Salman's long term strategy is for more than 1 million homes to be built for low and middle-income families by 2030. Subsidised by the government, and helped by a raft of reforms, we believe this is more than a $150 billion opportunity over a decade and will energise large parts of the non-oil economy Expansion of Qatar's LNG production capacity. A $45+ billion project to expand LNG production by more than 60%, from 77 to 126 million tonnes per year by 2027, will benefit many parts of Qatar's economy and a number of regional companies that have exposure to this project. Exponential growth of regional e-commerce. With very high mobile penetration and among the fastest internet speeds in the world, the region is well set for decades of growth in e-commerce. A large eco-system of companies, from retailers, online market places, logistics companies, etc, will benefit. Screening process: ARI follows a multi-layer stock-screening process, which combines qualitative and quantitative filtering with top-down and bottom-up analysis. This narrows the 1,000+ or so listed regional companies down to a dynamic portfolio of select investments, which also meet our ethical principles. The investment team very regularly engages with managements of companies across the region to remain close to key decision makers and to keep refreshing a bottom-up picture of trends within economies. Investment Strategy and Process: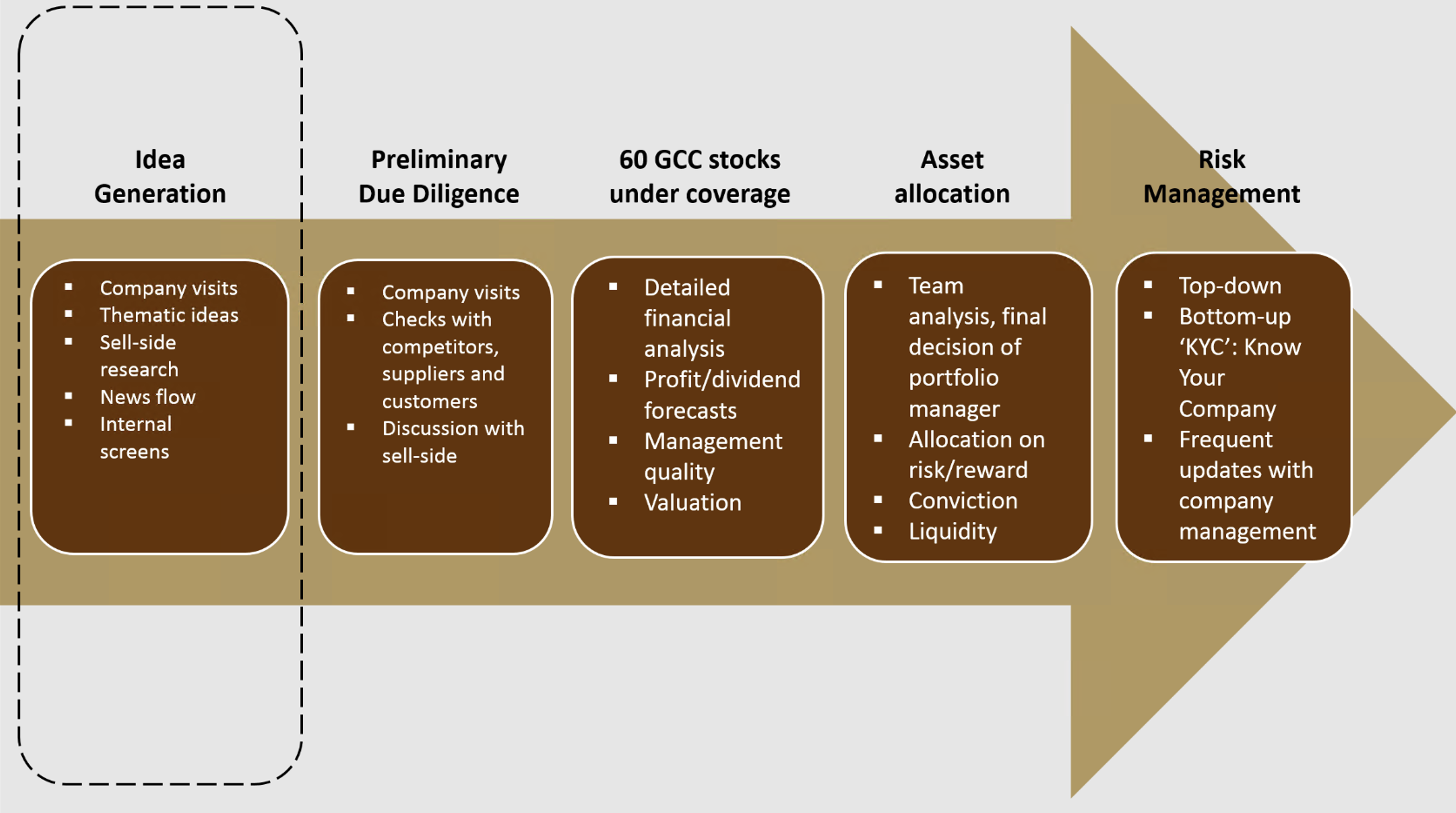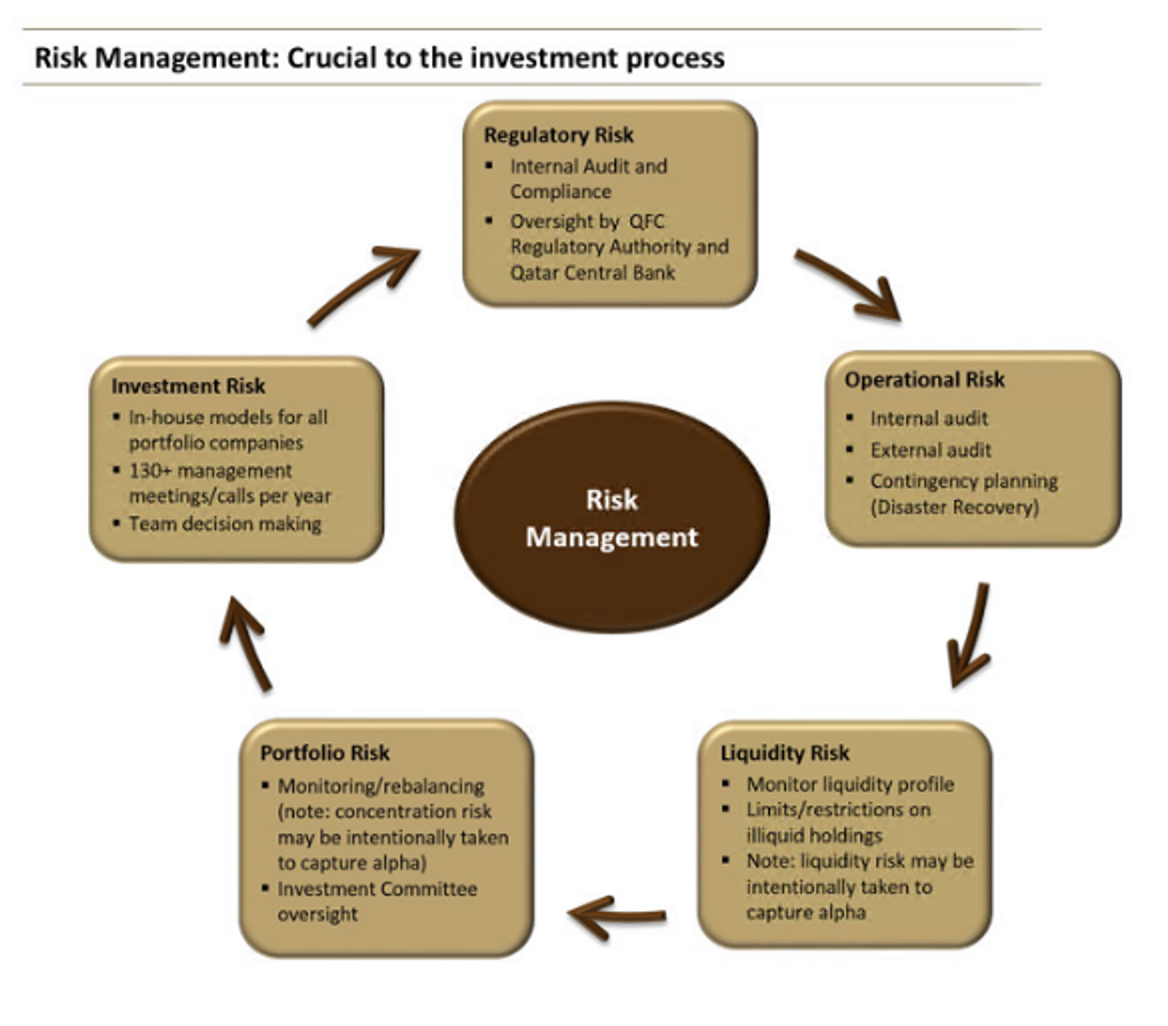 Investors who have risk tolerance that is associated with instruments that the fund invests in. Also, investors are always required to consult with their advisors prior to investing in the fund. Investors who invest in the Fund are categorized as: - Investors who share our belief that regional leaders understand the imperative of continuing to invest in their hydrocarbon production capabilities but also to diversify their economies. - Investors targeting absolute return over the medium term (18-24 months); the fund is not restricted by adherence to a benchmark - Investors wishing to have exposure to a fund bound by ethical principles, with a focus on responsible investments - Investors willing to tolerate the higher risks and volatility of investing primarily in equities - Investors who wish to invest in a fund with fees among the lowest amongst its peers - Investors who want a fund manager's incentives to be levered to generating exceptional returns for investors - Investors who wish to benefit from a fund able to capitalise on opportunities in Gulf equities and sukuk
Al Rayan GCC Fund
Who can invest?

All investors regardless of place of residence or nationality.

Fund currency

QAR

Fund duration

Open-ended

Investment focus

Sharia-compliant GCC equities & Sukuk

---

---

Investment horizon

18-24 months

Expected rate of return (Not guaranteed)

Target return is 12% per annum

Capital guarantee

The fund's capital is not guaranteed

Dividend distribution

The fund currently distributes a dividend twice a year, in January and July. This distribution is at the discretion of the fund manager and can be stopped at any point in time.

---

---

Lock-in period

None

Subscription/ redemption

Monthly


Deadline to receive completed subscription or redemption application

7 working days before end of each month
Monthly

Investor updates

Net Asset Value published in two Qatari newspapers (Arabic & English) each month. Investor newsletter and individual holding statement delivered by post and email upon client's request. Monthly factsheets are also available here.

---

---

NAV calculation

Monthly

Founder

Masraf Al Rayan QSC

Fund Manager

Al Rayan Investment LLC

Custodian

HSBC Middle East Ltd

---

---

Auditor

Deloitte & Touche

Sharia Advisory Board
FEES
Subscription fee

Up to 1% (upon subscription)

Redemption fee

Nil

Management fee

1.25% per annum (taken directly from fund on monthly basis)
SUBSCRIBERS
Individuals Minimum subscription:

QAR 35,000 (QAR 5,000 increments, subsequently)

Institutions Minimum subscription:

QR 350,000 (QAR 50,000 increments, subsequently)
Individuals
Required documents
Copy of national ID card (showing date & place of birth)
Copy of passport (Not required to Qatari nationals)
Evidence of physical address (if not MAR account holder)
Taxation for self-certification
6 months bank statement showing the funds which will be invested
Institutions
Required documents
Copy of commercial registration issued by Min. Econ & Trade/ local licensing authority
Copy of Memorandum or Articles of Association (or Prospectus if a Fund)
Copies of national ID cards of owners and joint partners
Names of shareholders who own more than 10% of capital
Name, copy of national ID and specimen signature of authorized signatory
Evidence of signatory's power and authority to buy units on behalf of the entity (constitutive documents, power of attorney or Board resolution)
Taxation for self-certification
6 months bank statement showing the funds which will be invested
For both individual and institutional investors
, the originals of the above should be seen by the representatives of the founder or the fund manager. Alternatively, they can be certified as 'true copy' by a lawyer, accountant, compliance officer or other similarly qualified professionals.
For all investors outside of Qatar where original documents are not seen by a fund representative, they would need to be notarized by a public notary and attested by the local Qatar embassy and Ministry of Foreign Affairs in Qatar.
Taxation for self-certification
For further information, please call +974 4425 3333, or contact your local Masraf Al Rayan branch or customer service representative
Past performance is not an indication of future results. The value of investments can go up as well as down. Before investing, investors should consider carefully information contained in the fund prospectus and addendums, including investment objectives, risks, charges and expenses. Investors must ensure they have sufficient knowledge, education and experience to make investment decisions. Neither the fund, founder, fund manager nor the custodian are tax consultants or provide any investment consultancy to invest in the fund. An investment is neither insured nor guaranteed by Masraf Al Rayan, Al Rayan Investment nor any government agency. Although the fund seeks to preserve and grow the value of your investment, it is possible to lose money by investing in the fund. If in doubt, please seek independent legal, Sharia, tax and financial advice.
The information on this website does not constitute an offer or solicitation in any jurisdiction in which such offer or solicitation is not authorised. The Qatar Central Bank (QCB), Qatar Financial Markets Authority (QFMA) and the Ministry of Economy and Commerce of the State of Qatar take no responsibility for the accuracy of the statements and information contained in this website or for the performance based on this information, nor shall they have any liability to any person, an investor or otherwise, for any loss or damage resulting from reliance on any statement or information contained herein. If you do not understand the contents of this website you should consult an authorised financial advisor.