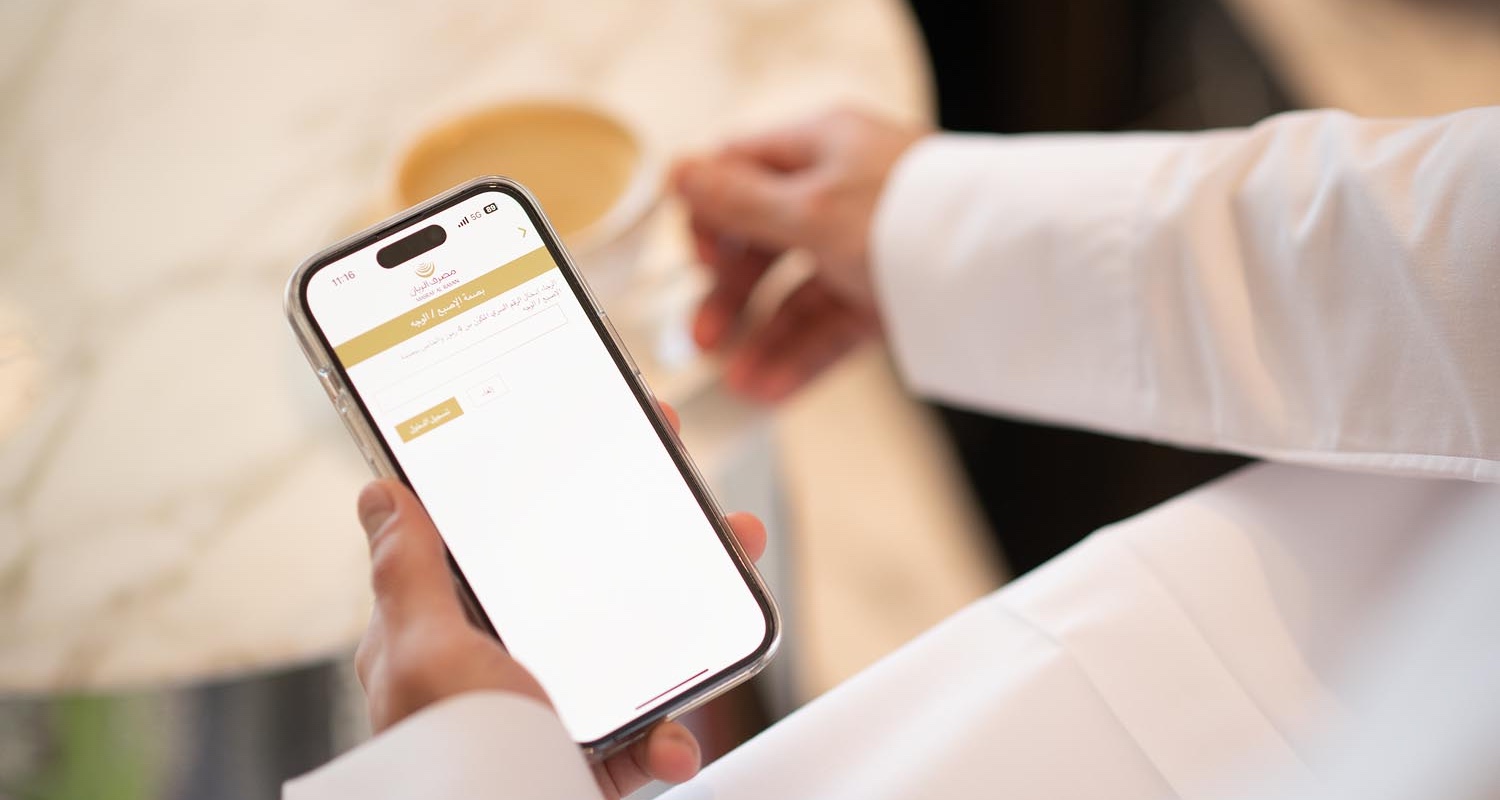 AL RAYAN MOBILE APP
Introduction
Access our banking services on the go from the comfort of your smartphone with "Al Rayan Mobile".
"Al Rayan Mobile" is Masraf Al Rayan's flagship Mobile Banking Application for individual customers, currently available for download from the App Store and Google Play.
Designed to work smoothly on iPhone and Android smartphones, our user-friendly mobile app makes it possible for you to experience convenient end-to-end management of your accounts, cards, finances and other Masraf Al Rayan products.
It is available 24/7 in Arabic and English languages and is free of charge.
For assistance, please call us on (+974) 44253333.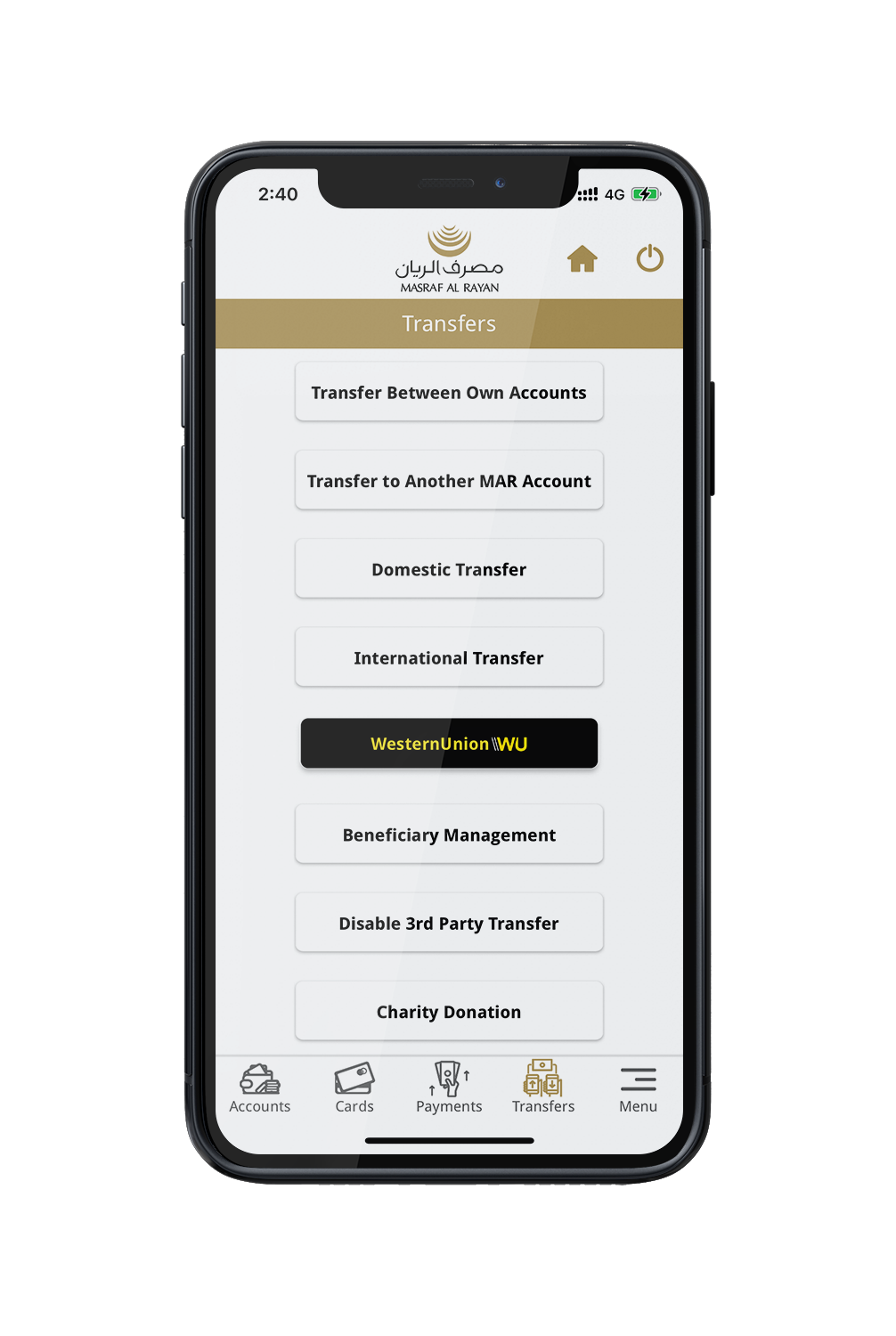 Security and Privacy
Transacting with "Al Rayan Mobile" app is completely safe and secure.
• One-Time-Password (OTP) authentication - You will receive the OTP as ISMS on your mobile number registered with us, upon logging in to your account and upon performing a transaction using Al Rayan Mobile.
• Biometric login using Touch ID (fingerprint) or Face ID and PIN.
Your account information is not and will not be stored anywhere on the device.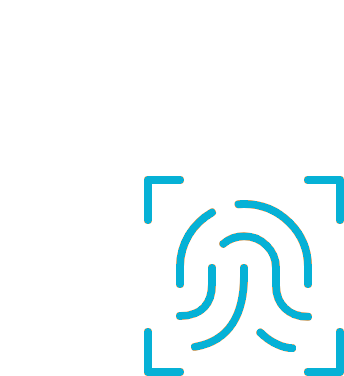 Who is eligible to use Al Rayan Mobile?
All individual Masraf Al Rayan customers (except * Minors and ** Joint Account Holders) who hold a valid debit or credit card can register themselves for Al Rayan Mobile.
* Minors and Joint Account holders should visit the nearest Masraf Al Rayan branch for details or call us on 44253333.
Where to download from?
iPhone and iPad:
Open the App store and search for "Masraf Al Rayan" or "Al Rayan Mobile".
The app is currently available in GCC, US, UK and Europe stores.
You can also download and use it on the iPad.
Compatible Mobile devices:
• Apple (iOS 7.0 and above)
• iPhone 4 and above.
• iPad 1 and above.
How to create your Al Rayan Mobile User ID
What do you require?
• Your active Masraf Al Rayan Debit or Credit Card and cash withdraw PIN.
• Your Mobile Number registered with Masraf Al Rayan.
How to create a new User ID?
1.Open "Al Rayan Mobile" app. Click "Login".
2. Click "New User"
3. Input your Masraf Al Rayan card details and PIN.
4. Verify your Mobile number and enter OTP (One time password).
5. Create User ID and Password.
6. Accept "Terms and Conditions"
7. Verify and confirm the details.
8.Al Rayan Mobile User ID will be immediately created.
Note: You will use the same login credentials for securely logging into Al Rayan Net (Retail) for individual customers.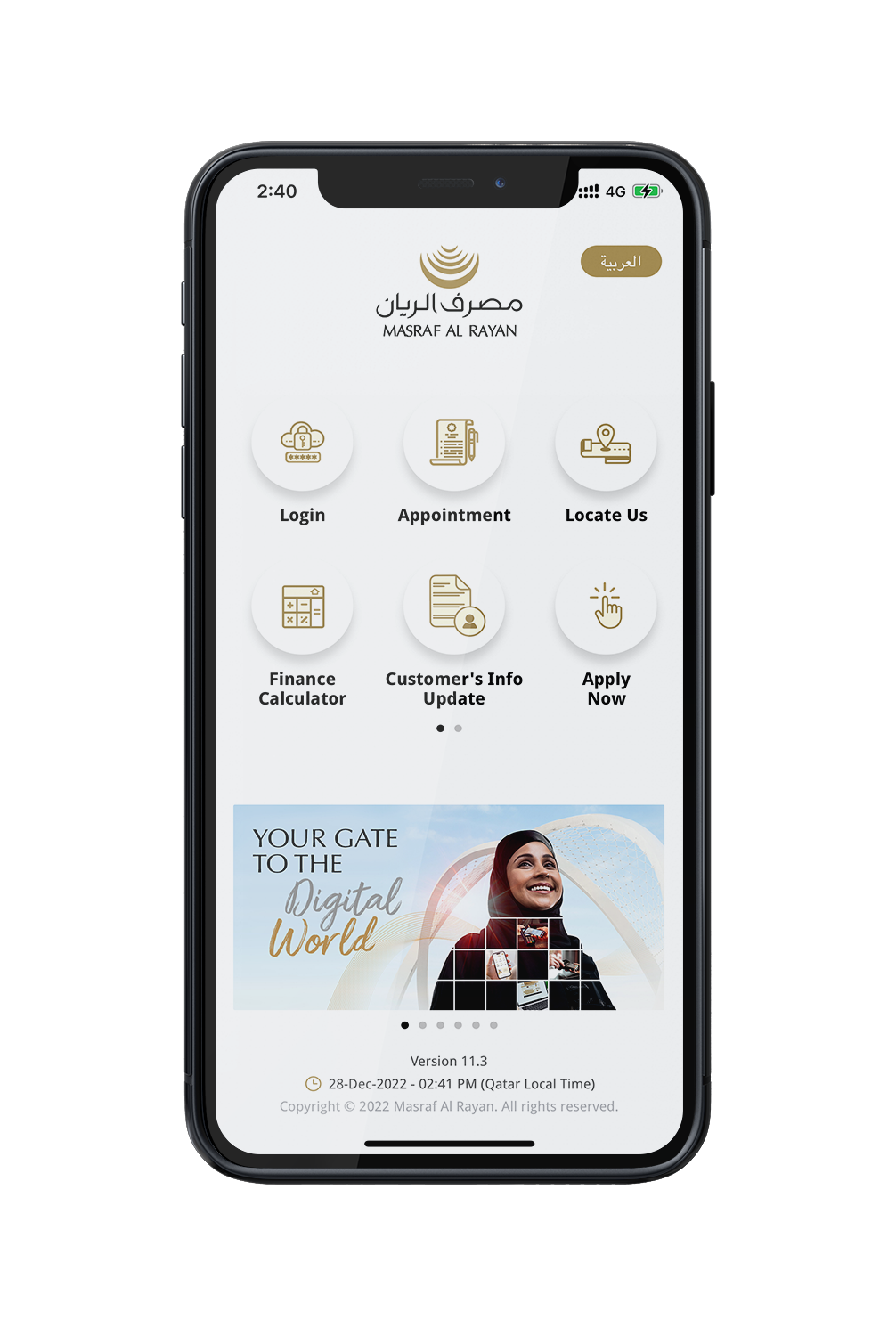 Main Menu Features
Accounts
• Register and transfer using Al Rayan Wallet (QMP)
• Open a Savings Account online
• Request a cheque book
• View Account balances and transactions
• View Finance and-Term Deposit details
Payments
• Pay a new bill
• Ooredoo Hala Top-up
• Ooredoo bill payment (Shahry)
• Kahramaa
• Pay a saved bill
• Ooredoo Hala Top-up
• Ooredoo bill payment (Shahry)
• Kahramaa
Cards (Debit / Credit / Prepaid)
• Activate Card
• Generate Card PIN
• Block Card
• Manage Magnetic feature of the card (Enable or Disable)
• Masraf Al Rayan Reward program
• Add Masraf Al Rayan Card(s) to Apple Pay
• Credit Card
• View details (card list, summary & outstanding balance)
• Payment towards own Gredit Card
• Request for Limit change
• Prepaid (Egtisadi) Card
• View details (card list, summary & balance)
• Prepaid card reload (From own Masral Al Rayan account)
• Prepaid card reload using Q Pay (using debit card Issued in Catari
Transfers
• Transfer between customer's own accounts
• Transfer within Masraf Al Rayan
• Transfer within Qatar (Domestic Fund Transfer]
• Transfer Outside Qatar (International Fund Transfer)
• Western Union
• Transfer status enquiry and refund initiation
• Loyalty Program Management (Add My WU .. number}
• Beneficiary Management (Add / Delete beneficiary)
• Beneficiary Management (Enable / Disable)
• Enable / Disable 3rd party transfer
• Charity Donation (Zakat)
• IPO Application (Self)
Services
• E-mail OTP
• Biometric Management (Enable or Disable Biometric for login to Al Rayan Mobile app)
• Dividend Encashment
• Call me back
• Submit feedback
• Password change
Features on Login Page
Login using User ID and Password OR using Biometric (Fingerprint / Face ID)
Unlock User ID / Reset Password / Retrieve User ID
Features on Pre-Login Page
Login (Into Al Rayan Mobile app)
Book Appointment
Locate us (ATM & Branch)
Customer Information Update
Finance Calculator
Apply Now (Accounts / Cards / Finance)
Exchange Rate
IBAN Calculator
Transfer / Payment Limits
| Transaction Type | Maximum amount of transaction (QAR) per day |
| --- | --- |
| Fund transfer between own accounts | QAR 5,000,000 |
| Fund transfer within Masraf Al Rayan | QAR 200,000 |
| Fund transfer within Qatar | QAR 500,000 |
| Fund transfer outside Qatar | QAR 200,000 |
| Western Union | QAR 27,200 (rolled over 3 days) |
| Ooredoo bill payment | QAR 10,000 |
| Ooredoo Hala Top-up | QAR 500 |
| Kahramaa bill payment | QAR 10,000 |
| Eqtisadi (Prepaid) card reload | QAR 10,000 |