Masraf Al Rayan Welcomes Qatar University Students at its Headquarters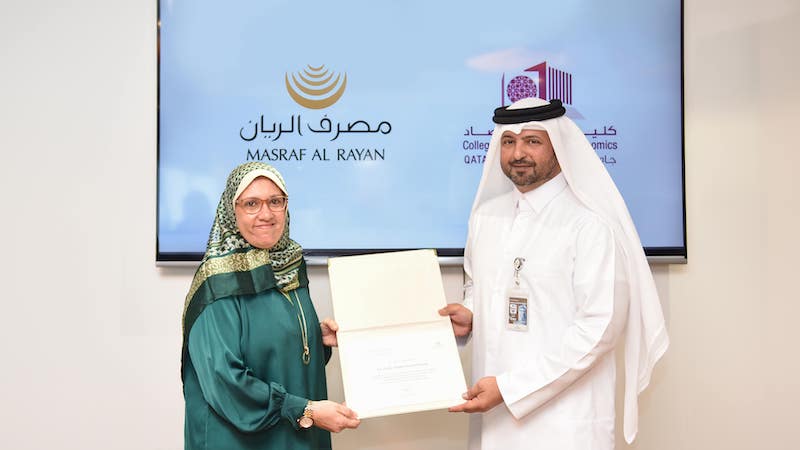 Doha-Qatar, June 8, 2023

Masraf Al Rayan (MAR), a leading Islamic bank in Qatar, recently welcomed a delegation of bright and talented students from Qatar University (QU) to its premises for an engaging and fruitful meeting. The visit provided an excellent platform for the students to connect with MAR executives and gain valuable insights into the banking industry.

The meeting commenced with a warm reception at the MAR headquarters, where the QU students were greeted by MAR representatives who expressed their excitement about the collaboration. The students were then led to a dedicated training room, where discussions and interactions took place throughout the day.
The Group Chief HR Officer, Mr. Hamad Al Kubaisi then took the stage, delivering an improvised speech that emphasized the importance of collaboration between the academic and corporate sectors. "We believe in the potential of young minds and are committed to nurturing local talent," said the GCRO. "Through partnerships with esteemed institutions like Qatar University, we aim to create an ecosystem where knowledge and innovation thrive."

The day was filled with lively discussions and informative Q&A sessions, where the students had the opportunity to engage directly with MAR executives and heads of various divisions. This provided them with firsthand insights into the bank's operations and offered a glimpse into potential career paths within the industry.
"We at MAR, under the direction of our GCEO and management, have a clear strategy to work with youth in Qatar and mentor them, guiding them towards the right path," said Eman Al Naemi, AGM, Corporate Communications at Masraf Al Rayan. "The bank serves as a gateway, offering valuable services and employment opportunities. We are immensely proud of this collaboration, and it has been an honor to work with the students on their projects, which showcased their serious work and dedication. We wish them the best of luck in their endeavors. A heartfelt thank you goes to the students and Dr. Dalia Farrag for their active participation and valuable contributions."

During the meeting, Dr. Dalia Farrag, Professor of Marketing and Supervisor of Students Project at QU was recognized for her valuable contributions, and Masraf Al Rayan presented her with a special gift as a token of appreciation. The students were also pleasantly surprised with exciting giveaways, further expressing MAR's gratitude for their active participation and engagement.

"I would like to express my sincere appreciation to Masraf Al Rayan for their outstanding cooperation and support," said Dr. Dalia Farrag. "Working together on this collaboration has been truly remarkable, and I am grateful for the opportunity to contribute to such an engaging and productive exchange of ideas. The dedication and commitment shown by Masraf Al Rayan in nurturing local talent and fostering a strong relationship with Qatar University is truly commendable. On behalf of the students and QU, I extend my heartfelt thanks for their active participation, valuable insights, and the special gift presented as a token of appreciation. This collaboration has undoubtedly enriched our students' understanding of the banking industry and opened up exciting possibilities for their future careers."

The event concluded with heartfelt expressions of gratitude and farewells, leaving both MAR and QU eager to explore future collaborations and partnerships.

Masraf Al Rayan remains committed to supporting educational institutions and nurturing local talent as part of its dedication to Qatar's socio-economic development. The bank recognizes the importance of bridging the gap between academia and industry, and events like these serve as a testament to MAR's commitment to shaping the future of the banking sector by relying on young competencies.