Masraf Al Rayan Signs an (MoU) with KARTY LLC to Provide Financial Technology Services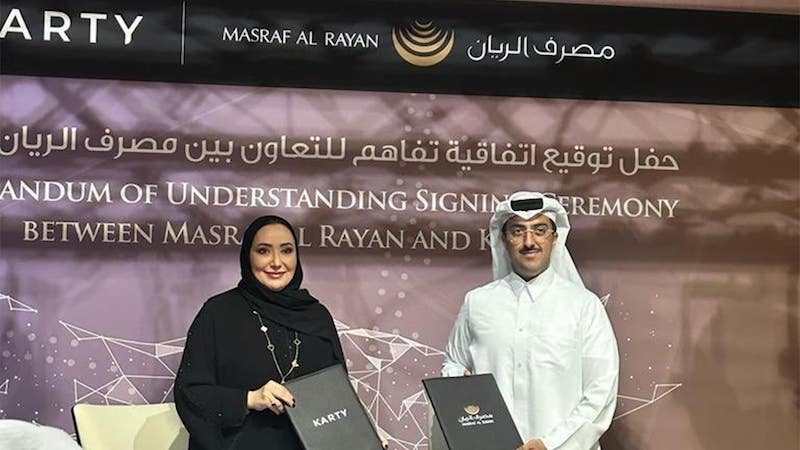 Doha, Qatar – June 7, 2023

Masraf Al Rayan, a prominent Islamic bank in Qatar, is proud to announce the signing of a significant Memorandum of Understanding (MoU) with KARTY LLC, a startup fintech company. This strategic partnership represents a pivotal commitment by the bank to drive escalating advancements in the fintech sector and deliver innovative digital solutions. Through this collaboration, Masraf Al Rayan will join forces with Karty, pooling their expertise and resources to enhance groundbreaking developments in the financial technology sector, redefine the industry based on global advancements, and empower individuals with the knowledge and tools to make informed financial decisions.

Ms. Rana Al Asaad, General Manager of Retail and Private Banking at Masraf Al Rayan, expressed her excitement about this strategic alliance, stating, "We are pleased to announce our strategic alliance with KARTY LLC, which perfectly aligns with our unwavering dedication to promoting innovation and delivering exceptional services to our esteemed clients. By combining our comprehensive expertise with Karty's advanced technology, our goal is to enhance the future of the fintech sector. We are fully committed to introducing significant improvements that will positively impact the lives of individuals and customers."

Mohammed Suleiman, Co-founder of KARTY LLC, also expressed his enthusiasm for this partnership, stating, "This partnership represents a new chapter for Karty, and we are excited to embark on this journey with Masraf Al Rayan, a prominent bank in the financial sector. This collaboration is a significant milestone for Karty as we strive to empower individuals with the knowledge and tools to confidently manage their financial matters. We are confident that Masraf Al Rayan's extensive expertise and resources will accelerate our growth and enable us to deliver even greater value to our clients. By joining forces, we aim to drive fintech innovation, enhance customer experiences, and shape the future of the financial landscape."

Dr. Hamad Salem Mejegheer, Executive Director of Advisory & Incubation at QDB attended the signing ceremony and appreciated the collaboration saying "QDB's Qatar FinTech Hub was established with an understanding of the immense scope of Qatar's entrepreneurial potential and the importance of creating a supportive infrastructure to enable the growth of the homegrown startup ecosystem. It is encouraging to see how platforms such as KARTY have been empowered through the support of QFTH to forge partnerships with local institutions and take the next step in their journey towards providing innovative, digital-first solutions. This is an uplifting and exciting development in the regional fintech landscape, and we thank Masraf Al Rayan for giving our rising startups the opportunity to fulfil their potential."

It is worth noting that this strategic alliance between Masraf Al Rayan and KARTY paves the way for a transformative journey towards reshaping the fintech industry. The focus will be on developing revolutionary solutions, leading in new technologies, and empowering users to achieve financial well-being.

About Masraf Al Rayan:
Masraf Al Rayan is a leading Islamic bank in Qatar, renowned for its commitment to delivering exceptional financial services and fostering innovation in the financial industry. With a customer-centric approach, Masraf Al Rayan aims to enhance customer experiences and contribute to the growth and development of the banking sector.

About Karty LLC:
Karty LLC is a leading fintech startup that aims to empower individuals with a better understanding of their expenditure and savings. Where customers Spend, save and manage of their finances in one app!

About QFTH/QDB:
QFTH was established by Qatar Development Bank (QDB) and key stakeholders in the country in line with the Qatar National Vision (QNV) 2030 and Qatar Central Bank's (QCB) FinTech Strategy to advance and enhance financial innovation. As part of its commitment to offering world-class expertise and opportunities to startups and scaleups, QFTH is collaborating and cooperating with the key stakeholders in the FinTech ecosystem and large corporations such as Visa, Microsoft, Amazon, Progress Soft, and Vodafone. Qatar FinTech Hub invested in KARTY during their participation in the Incubator and Accelerator program.
Since its establishment, less than 2 years ago, QFTH, as a QDB Incubator, has enriched the local FinTech ecosystem, spurring Qatar's growth in this field and contributing to the achievement of the QCB FinTech Strategy.