Masraf Al Rayan Receives Excellence in Business Award from Visa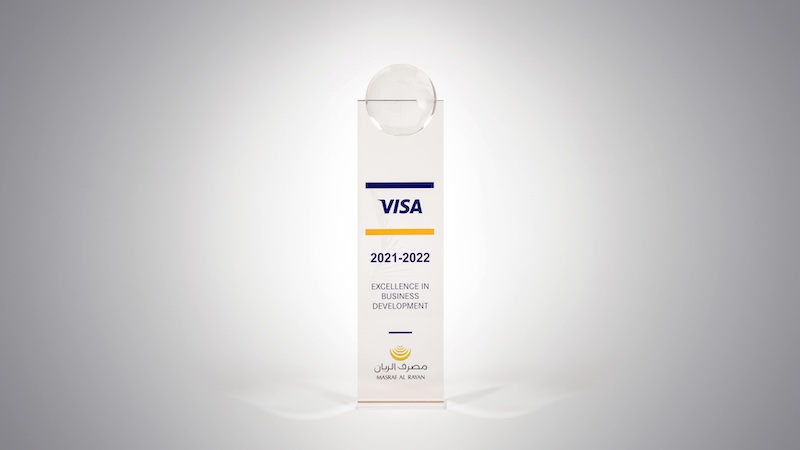 Doha-Qatar, 05 June, 2023

Masraf Al Rayan, a prominent Islamic bank in Qatar, is delighted to announce that it has received the Excellence in Business Award presented by global digital payments leader, Visa. This prestigious honour acknowledges the bank's exceptional business expansion and notable contributions to promoting digital payment solutions in the region. Specifically, Masraf Al Rayan has demonstrated excellence in implementing and endorsing tokenized card payments via Apple Pay and Google Pay.

Ms. Rana Al-Asaad, GM Retail & Private Banking at Masraf Al Rayan expressed her enthusiasm, stating, "We are thrilled to receive this esteemed award from Visa. It serves as a testament to the dedication, creativity, and innovative mindset of our team. Our primary goal has always been to provide secure, convenient, and cutting-edge banking solutions to our customers, and this recognition reaffirms our success in achieving that."
The bank's commitment to digitization has resulted in the successful adoption of tokenized card payments. By offering this technology through Apple Pay and Google Pay™, Masraf Al Rayan has empowered customers with a secure and user-friendly platform for making payments. Consequently, this has driven substantial business growth and heightened customer satisfaction.

"We're recognizing Masraf Al Rayan for their efforts in digitizing money movement and leveraging technology to benefit the payments ecosystem," commented Shashank Singh, Visa's General Manager for Qatar & Kuwait. "Through their implementation and promotion of tokenized card payments via mobile wallet, they have not only fuelled their business expansion but also laid the groundwork for a more secure and seamless payment experience for consumers and local businesses."
The Excellence in Business Award bestowed by Visa is presented to entities that exhibit extraordinary business growth, embrace innovation, and make significant contributions to advancing the payment industry.

Ms. Rana Al-Asaad affirmed the bank's dedication to delivering state-of-the-art banking solutions and providing a unique banking experience for customers, stating, "We remain committed to our ongoing efforts in this regard. We extend our gratitude to Visa for acknowledging our achievements, and we eagerly anticipate our continued partnership in advancing the payment industry."

About Masraf Al Rayan:
Masraf Al Rayan is one of the leading Islamic banks in Qatar, with a commitment to providing innovative and secure banking solutions. The bank is at the forefront of digital banking innovation, having implemented and promoted tokenized card payments through Apple Pay and Google Pay™, thereby revolutionizing the customer experience.